Sleep Wake-up Call (Fr. Valentin Marichalar)
An Encounter With Fr Marichalar
Pastor receives special grace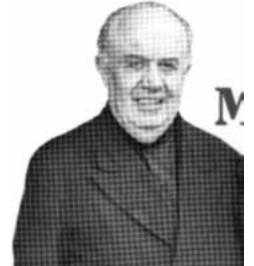 (Taken from the magazine GARABANDAL-NUEVA PENTECOSTES. September-October 1987)
Reprinted with permission from GARABANDAL JOURNAL , March-April 2004
Fr. Valentin Marichalar was the pastor of Garabandal during the time of the apparitions
This gentleman deserves special mention as he was the pastor of San Sebastian of Garabandal during the apparitions.
He told of his misgivings concerning the events that had ended the pastoral peace and routine of Garabandal. So much was happening that he didn't know about and he needed to know the truth.
Without telling anyone, he mentally asked the Virgin: "If it's true that you are appearing here, then let the girls come tonight and wake me up" (most of the ecstasies occurred at night).
He went to bed at the usual hour, but instead of going to the house or room where he usually stayed, he went to a barn and lay down on the hay without telling anyone about it.
About two or three o'clock in the morning, when the girls [in ecstasy] began knocking on the barn door, he was filled with joy, but didn't open right away, waiting to see if this might have been just a mistake. As the knocking continued, he finally opened the door.
He was always happy in telling this story, but not everything for him was joyous as he suffered much. On March 29, 1987 at age 78, he entered into eternal rest.
(signed) Jesus Miguel Hormaechea and Pedro Balda Unanua
from GARABANDAL JOURNAL • click to order your copy
---