Concussion All Recovered (Pilar de Gutierrez)
Instantaneous Recuperation
Reprinted with kind permission from GARABANDAL JOURNAL May-June 2004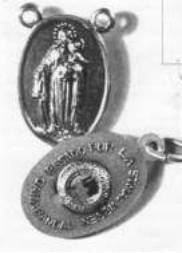 My son, Alberto Gutierrez Orena, four years old at the time, was seriously hurt in a car accident, where he received a severe concussion that left him for eighteen days blind, deaf and speechless. He was hospitalized in the Casa de Salud Valdecilla de Santander, Spain.
Miss Aurora Diez Alvarez of Santander gave me a Garabandal medal. The date was January 18, 1966. My son had been unresponsive for 18 days. I was very pessimistic about this hopeless situation, but I touched him on the neck with the medal. The result was an instantaneous recuperation of the powers of speech and memory, and later he recovered his sight.
Today, a month later, he is totally normal, physically and mentally. I am very happy to testify to this case.
Signed: Pilar Orena de Gutierrez
Santander, Spain, October 14, 1966
---