The Apparitions of Garabandal Book (F. Sanchez-Ventura y Pascual)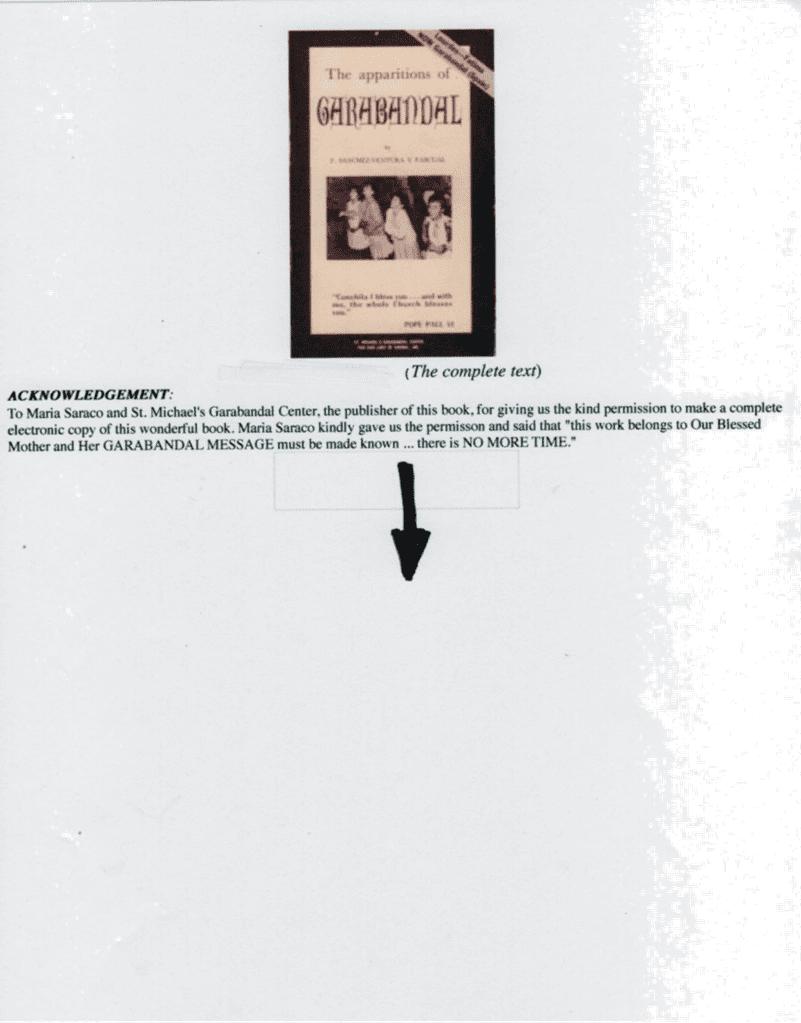 F. SANCHEZ-VENTURA Y PASCUAL
The apparitions of
GARABANDAL
Translated from the Spanish
by
A. de Bertodano
To my mother (d. Feb. 8, 1961)
from whom I first learned to love
the Blessed Virgin.
THE AUTHOR
PUBLISHED BY
ST. MICHAEL'S GARABANDAL CENTER
FOR OUR LADY OF CARMEL, INC.
889 PALO VERDE AVE.
PASADENA, CA 91104 U.S.A. (see NOTE 2)
* * *
The original book was published
in Spain under the title
LAS APARICIONES
NO SON UN MITO
el interrogante de Garabandal
LIBRARY OF CONGRESS CATALOG NO. A 879-508
Publishing history
Spain: August 1965 & 3 later editions
France: December 1965 & 2 later editions
Mexico: 1966
Germany: 1966
Argentina: 1966
Italy: 1967
U.S.A. November 1966 first edition
August 1967 second edition
September 1969 third edition
May 1970 fourth edition
March 1971 fifth edition
May 1972 sixth edition
August 1973 seventh edition
June 1975 eighth edition
May 1976 ninth edition
May 1978 tenth edition

March 1979 eleventh edition
November 1981 twelfth edition
May 1984 thirteenth edition
July 1989 fourteenth edition
October 1991 fifteenth edition
April 1994 sixteenth edition
All rights reserved. No part of this book may be reproduced in any form, except by a reviewer, without the permission of the publisher.
*SEE NOTE in Acknowledgments 2 below. Also see NOTE of Manuel Pio Lopez, Archbishop of Jalapa (Mexico)
Copyright © 1966 by LITHO IN U.S.A.
ST. MICHAEL'S GARABANDAL CENTER
FOR OUR LADY OF CARMEL, INC.
889 PALO VERDE AVE.
PASADENA, CA 91104 U.S.A.
http://www.garabandal.org
Acknowledgement 2
To Maria Saraco and St. Michael's Garabandal Center, the publisher of this book, for giving us the permission to make a complete electronic copy of this wonderful book. Maria Saraco kindly gave us the permisson and said that "this work belongs to Our Blessed Mother and Her GARABANDAL MESSAGE must be made known … there is NO MORE TIME."
September 2001
The Workers of Our Lady – Canada
https://ourlady.ca
e-mail: workers@ourlady.ca
* * *
THE AUTHOR: Francisco Sanchez-Ventura y Pascual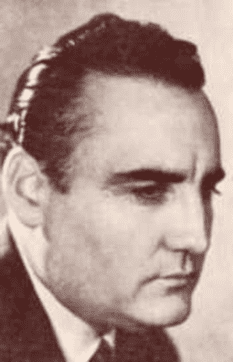 Francisco Sanchez-Ventura y Pascual is a highly respected Spanish Attorney and Professor of Economics and Legislation at the University of Zaragoza.
"The Apparitions of Garabandal" was written in reply to a book attacking the Church and all apparitions and messages of the Blessed Virgin Mary. Here he describes in a most objective manner the events which took place in the village of Garabandal, Spain.
PUBLISHERS' NOTE
The name of Garabandal, the village of the Apparitions, is becoming well known throughout the world. San Sebastian de Garabandal, to give it its full name, is a small village lost in the Northeastern mountains of Spain, where seventy families lead a hardy existence, some 90 kilometers (55 miles) from Santander. None but detailed maps show its location, and it is easy for the unwary traveler to mistake
for San Sebastian de Garabandal, the resort town of San Sebastian, which lies a little further along the Atlantic coast, near the French border.
Ever more frequently, notices were seen to appear in the Press, relating strange events, prodigies, conversions, as well as messages attributed to Saint Michael the Archangel and the Blessed Virgin Mary. Controversy sprang up around these events, specially in Spain and France, where it became difficult for the layman to sift out the facts, unless he was able to travel to Garabandal and find out for himself.
At last, Mr. Monroy, the Editor of a Tangier newspaper, La Verdad, sparked a reaction by making public his utter disbelief in all apparitions which, according to him, were nothing but a pure myth. An interested lawyer, who also holds the Chair of Economics and Legislation at the University of Saragossa, refuted these arguments in a book which, in Sp.iin, was published under the title of "Apparitions are not a myth — The enquiry into Garabandal."
This is the book which we are now presenting, thus making available to the English-speaking public on this Continent all the carefully gathered documentation of an author whose professional experience was likely to make, more than anyone else perhaps, a sober, cautious and trustworthy witness.
For ease of reference, the author broke down the material of this book into small sections numbered from 1 to 70 — this edition preserves the author's section numbering system (see INDEX). The original book however, opened with a rebuttal of Mr. Monroy's arguments which are not of such burning interest here as they are in Spain. It was thought preferable to transfer the first two chapters of the Spanish edition (sections 3 thru 11) to the end of this book, where they will be found under Appendix A and B.
AUTHOR'S NOTE
The author solemnly declares that this book has been submitted to eminent theologians and official censors, and that all the corrections they suggested have been included.
In spite of this however, and in response to valid suggestions to that effect, it was decided at the last minute not to apply for the "imprimatur", to avoid placing the ecclesiastical authority before a request for approval of a book that contains the relation of certain events that have not yet received official sanction. Such an "imprimatur" might have been interpreted by some as an implicit acknowledgement by the Church of the

supernatural origin of a series of phenomena that are still under examination.
In due obedience and submission to the hierarchy, the author places this book unconditionally in the hands of the ecclesiastical authority, and hereby declares that he is prepared to omit or modify whatever that authority may wish to see omitted or modified; he accepts the ecclesiastical authority's decisions for or against Garabandal, as and when the matter is brought to a conclusion. He also offers to withdraw this publication at the slightest suggestion to that effect on the part of the Archbishop of the diocese to which he belongs.
F. S-V. y P.
ACKNOWLEDGEMENTS
I should like to acknowledge the invaluable assistance given me in compiling this book by many eyewitnesses of the events recounted in these pages.
Through them, I was able to gather countless reports, films, letters, photographs, tape recordings and other testimony of all kinds, the very abundance of which served to cross-check their authenticity and enabled me to write the short account which I now present in newspaper report style.
My heartfelt thanks to them all, and very particularly to the Marques and Marquesa de Santa Maria, Dr. Gasca and Dr. Ortiz, Don Placido Ruiloba, Don Alejandro Damians, Don Jose Maria Concejo, Don Maxima Foerschler, Senorita Carmen Cavestany and Senorita Ascen-cion de Luis.
At the same time as expressing my gratitude, I should like to offer to them, without prejudice to my author's rights, any possible profits the sale of this book may bring, to be made available for whatever work they may consider most suitable among the many that are now, or will later be devoted to spreading and publicising the messages of the Blessed Virgin.
My sole intention in so doing is to follow the example that I have always been given by this splendid group of friends and helpers of selfless zeal and enthusiasm for their magnificent apostolic work.
F. S-V. y P.